Well, if you live in Ireland, England, Australia, India even, or wherever the English have influenced culture, you probably do not need me to tell you what a Christmas pudding basin is. However, the majority of the United States (where I live now) is pretty much clueless, and that's not me being mean. It is the cooking pot used to make a dessert made once a year, (literally).  Beyond that, unless you are some pudding-making addict, this object sits in the nether regions of your cupboard until around this time of year (I usually have to hunt for it because I never remember where I stash it).
This is a pudding my mother made each and every year when I grew up and it was always a bit of a mystery to me. I never helped her make it. The kitchen was not very big and with six children ( yes, six!) underfoot my mother didn't have the time or the patience to squeeze in cooking lessons on top of everything else she had to do. But I watched my mother cook for years and when she did let me cook (and it was pretty often after the ripe old age of seven), I had full reign of the kitchen. It was all or nothing: I suppose she rightly figured that two was too many cooks at one time, so she would plant me in our tiny kitchen and walk away.
I would try my hand at anything, and everything I made was my attempt at trying to make things that were staple meals my mother made or I would find a recipe somewhere and follow it to the letter. At that time there was no such thing as computers and I don't think my mother even owned a cookbook, so I used to find recipes in my mother's weekly magazine (I think it was called Woman's Own?) and later I used my Home Economics school book as another source of inspiration and instruction (and in those days only girls were taught that subject, the dark ages indeed)
But I never got the pudding recipe. This time of the year would roll around and I would see my mother mixing flour with spices and various dried fruits, and there was that sweet smell of cinnamon, mixed with ground cloves and other mysterious sweet things that wafted through the whole house when this laden pudding cooked for hours on the stove. The only hand I had in it was every couple of weeks she would give me a bottle of sherry and I had to pour a little of it over each pudding (since she went to the trouble of making one, she decided it was just as practical to make 3 or 4!) to "cure it". I didn't even know what that meant…what was wrong with it that it needed curing?
I wasn't really in love with Christmas Pudding when I was young. It was thought of as a grown-up dessert. I hated the candied mixed-peel fruit that my mother used in the batter, and the addition of sherry made me winch. No child likes the taste of alcohol and so as far as I was concerned, the sherry was the nail in the coffin. I never bothered to ask how it was made as I never though I would ever want to make it. 
Well that turned our to be wrong, so a little word of advice here: ask as many questions as you can of your parents and relatives about everything and anything, because one day they will be gone, and like me, there will be moments when you say to yourself, "why didn't I ask about that when I had all the opportunity in the world?"
Not that I wanted to make my pudding the same way as my mother. I still do not like sherry in desserts and store-bought candied mixed peel is still a tragic way for any fruit to end its life! Suffice is to say that I have been making Christmas pudding for several years now in the spirit of my mother but with my own sensibility.
I will talk about what this pudding consists of  later but first you will need to get yourself a pudding basin! This pudding is steamed and it needs to be in a tight-as-a-drum container and withstand four to five hours of low bubbling in a pot of water, that constantly needs to be topped up. It's a simple thing but kind of hard to find if you decide to trek around town looking for it. And forget about asking for help as no one will know what you are talking about.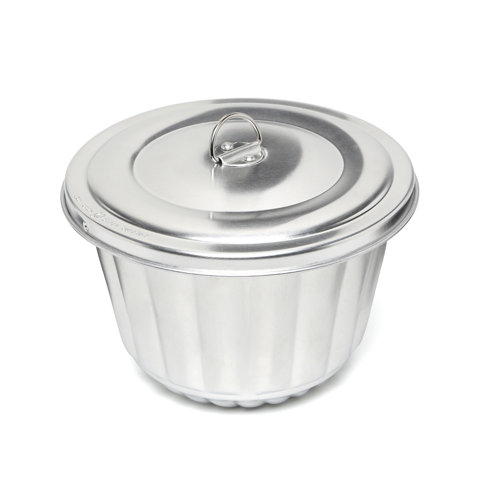 You are looking for something like this (above is a metal basin. I have this kind and it lasts forever). This one is from Fox Run Craftsmen: Pudding basin/mold
Or like this. This is a Plastic Pudding Basin and is just as effective.
If you want to make this completely amazing and different Christmas dessert, this is the first step The other thing you will need and is not a common ingredient anymore), is SUET, and I will talk about that next. When you are schooled in these two not-so-common things, we can make our pudding together.
*AND I RECOMMEND A 3 PINT PUDDING BASIN*